Our policy and practice to protect young and vulnerable people, and promote welfare for enjoyable participation in sport.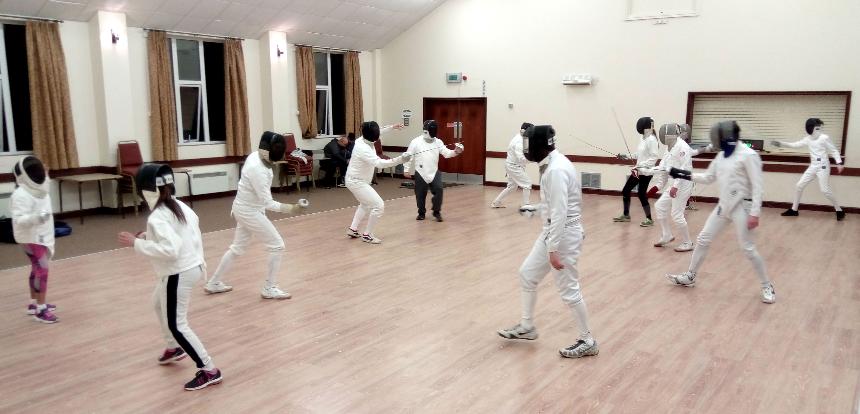 We're Back!
Following Covid risk management guidelines from Government and British Fencing
Stone Fencing Club will resume club practice night from Wed 26th May 2021.
Sorry - but initially, attendance is for existing members only and must be pre-booked.
If you have an interest in beginning fencing, or joining the club please
leave an email message with your details and we'll get back to you.
...............................................................................
Stone Fencing Club is a community sports club for people of all levels of ability
to develop their skills in the sport of Fencing.
Modern Fencing is great fun, great exercise, and promotes great friendship.
Fencing is one of the oldest Olympic events and Stone Fencing Club offers
coaching and facilities for all three fencing weapons - Foil, Epee and Sabre.
Few other sports can offer participation from ages 9 to 90,
and for men and women of all shapes and sizes.
With a little regular practice Fencing allows all to compete on equal terms.

Fed up with the Gym ?
Fencing is a much more interesting form of exercise, and with very little risk
of the pains and strains that can come with other types of work-out.
We meet on Wednesday evenings, between 8:15pm and 10:15pm, all through the year (except for Christmas week). The club is affiliated to British Fencing, the governing body, and adheres to all modern codes of practice regarding membership, coaching and safeguarding. We have a basic and essential selection of the protective clothing and equipment for loan out. So, for a period of time beginners can trial Fencing in a safe and realistic environment.
Our venue is at Meir Heath and Rough Close Village Hall
Grange Road, Stoke-on-Trent. ST3 7BH
Click on the directions tab for more information about the location.
Stone Fencing Club is affiliated with British Fencing.
Membership Fees: Annual Subs (due in January each year)
Adults £20.00pa Juniors (under 14yrs) £15.00pa

Nightly Fencing Fees:
Adult Members £3.50 Non-Members £4.50
Junior Members £3.00 / Non-Members Junior £4.00
Coaching:
Throughout the year we have coaching sessions with former international fencer Mr Ken Holding.
Coaching Evenings with Ken Holding are £6.00 per person.

Beginners' Courses:
Short courses for new fencers are available. Click on the Beginners' Courses tab at the top of the page for more information.
Kit is available for beginners.
Links to national and international Fencing organisations;

British Fencing

Leon Paul Fencing Equipment

Allstar Fencing Equipment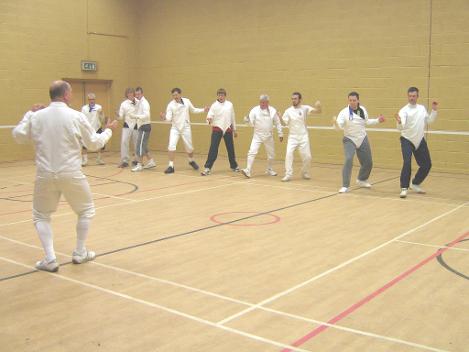 Warming up before practice starts